These 2 products by Soprema are quickly becoming some customer favourites!
With a variety of benefits, each of these products offers a high performance self-sealing membrane to ensure continuous waterproofing and an excellent adhesion to various substrates. Check out these 2 products below and see why our customers are enjoying working with these Sopraseal membranes by Soprema.

SOPRASEAL® Stick 1100T
SELF-ADHESIVE AIR/VAPOUR BARRIER MEMBRANE
SOPRASEAL STICK 1100 T is a self-adhesive air/vapour barrier membrane for walls composed of SBS modified bitumen and a tri-laminate woven polyethylene facer. It is also used as masonry and through-wall flashing membrane as well as waterproofing membrane at openings and transitions.
Benefits
Excellent adhesion to various substrates
Ideal for sprayed polyurethane foam insulation
Self-sealing membrane ensuring continuous waterproofing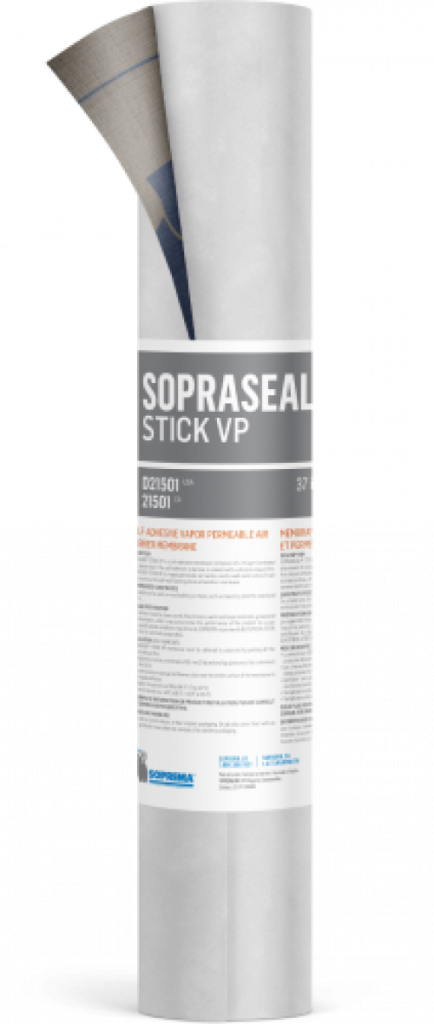 SOPRASEAL® Stick VP
VAPOUR PERMEABLE AIR BARRIER MEMBRANE
SOPRASEAL STICK VP is a self-adhesive vapour-permeable air-barrier membrane with a tri-laminated polypropylene complex on its surface. Used in wall construction, it stands out due to its unmatched adhesive properties. Its width and self-adhesive underface, protected by a silicone release film, make it very easy to install. It can be used on most building surfaces, such as masonry, concrete, wood and gypsum.
Benefits
Better adhesive properties than competitive products

Self-sealing membrane ensuring continuous waterproofing

UV exposure up to 180 days

No primer required
Want to give these products a try?