WHAT WE DO
Hewson Brother's is a family operated Armstrong Ceilings distributor and supplier of leading-edge construction material and acoustical specialty products. A proud member of the TORBSA buying group, we service Southern Ontario, Niagara and Greater Toronto Residential and Commercial Drywall Contractors, General Contractors and End Users with an extensive fleet of delivery vehicles and highly trained delivery team. Our product portfolio is extensive with a focus on interior finishing and exterior walls.
Our years of experience in the Construction Industry, truly differentiates us from our competition. Getting started in the business as a Contractor and then moving into Supply, we understand your project challenges from design and estimation right through to final completion. We also understand that different customers have different needs. We offer a variety of products for specific to General Contractors, Drywallers, Tapers and Insulators. We believe that face to face relationships are still valued in this business and decision making needs to happen quickly.
With two conveniently located yards located along the 400 series highways in Brantford and Cambridge, we can supply your projects anywhere in Southern Ontario and Greater Toronto.
We are committed to being Ontario and the GTA's premiere Armstrong Ceiling & Wall Solutions Distributor.
We pride ourselves in being experts in Wood, Metal, Tectum, Acoustical Wall Panels. What his means to you is that we can help you with something as simple as picking out the right ceiling tile for your office or we can work with you to design a more sophisticated wood, metal or tile ceiling/wall system.
TOP SALES TEAM
Our knowledgeable and friendly sales team is here to help. Our experienced outside sales team are well versed in many different areas of the building supply industry. They are willing to meet at your office or jobsite and provide any support you require. We can help with Technical knowledge, Product recommendations and Submittal packages for your projects.
Our inside sales team is available by phone or email for placing orders, scheduling your deliveries, or answering any questions you might have.
OUR HISTORY
The origins of Hewson Brothers Building Supply can be traced back to the early 1900's. Founder, George Hewson started Hewson & Potter Plastering in Brantford Ontario. After several years of success and growth, the name was changed to Hewson & Son in 1946 when George's son Leonard joined the company. After years of working on the contracting side of the business, the decision was made in 1983 to move into Distribution and Hewson Brothers Supply Limited was established.
The success of the company continued throughout the years as each generation of Hewson owners evolved the business to meet the needs of the market through expertise in plastering, contracting and supply.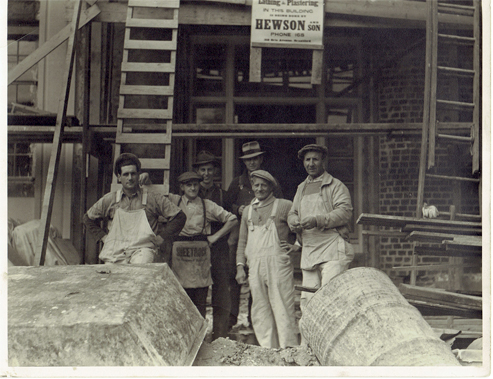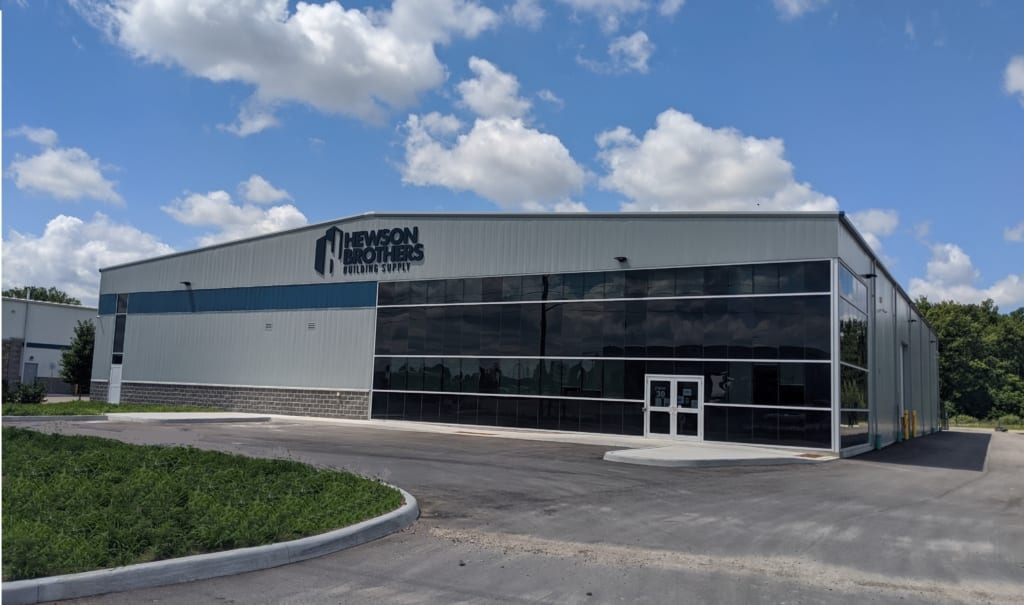 Now, a fourth-generation family owned company, Hewson Brothers Building Supply has developed into a leading interior finishing distribution company with an extensive fleet of service trucks and expert knowledge of the construction industry. Hewson Brothers has a broad contractor customer base and is capable of servicing both large and small construction projects in Ontario and the Greater Toronto Area.